Philip Morris dreigt een Amerikaans bedrijf dat een keramische babypop op de markt heeft gebracht met een rechtszaak. De reden: het is een rokende baby die wordt afgebeeld met een sigarettenpakje dat erg veel lijkt op het bekende Marlboro pakje. In dat pakje zitten sigaretten met wierook die in de babypop kunnen worden verbrand.
Philip Morris wil blijkbaar niet geassocieerd worden met rokende baby's, maar richt haar pijlen liever op inbreuk op het merkenrecht.
APRIL 10–Philip Morris is threatening legal action over the sale of a "Smoking Baby" doll–but not because the tobacco giant is offended by the thought of an infant lighting up, but rather because the diapered cigarette enthusiast appears to be enjoying a trademarked Marlboro. In an April 7 letter to Toy Lounge, an online retailer, Philip Morris attorneys contend that the $5.95 ceramic doll comes equipped with a pack of cigarettes bearing a "logo confusingly similar" to Marlboro's "roof design," which is further described as "a pentagonal figure with a horizontal top and two vertical sides with two upwardly and inwardly sloping diagonals."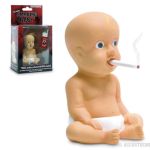 The design of the package of toy cigarettes–which are actually unscented incense–is intended to "evoke an unsavory association with Philip Morris," alleges the letter, a copy of which you can find below. The company also claims that a "Li'l Smokes" refill pack also infringes its Marlboro trademark. Along with leaning on Toy Lounge, Philip Morris also apparently contacted the novelty doll's manufacturer and was told that the offending products would be altered to address the tobacco company's concerns. Commendably, Philip Morris has never been shown to market its products to newborns. However, the company has previously tracked Marlboro's "market penetration" with smokers as young as 15, since the teenage years are when crucial "initial brand selections" are made, according to one internal company memo.