Virginia en Maryland – NEE tegen rookverbod
Wat dissidente anti-roker Michael Siegel al vreesde lijkt steeds meer duidelijk te worden: de vaart is uit de anti-rokenbeweging in de VS. En nog wel door eigen schuld: door verregaande overdrijving van de gevaren gelooft daar niemand meer in de uitspraken van de anti-roken extremisten. En dat heeft weer zijn effect op de lokale bestuurderen.
In één week tijd werden rookverboden in twee staten aan de oostkust, Virginia en Maryland, al in de kiem gesmoord. De initiatieven haalden niet eens het voorstelstadium doordat ze al in de voorbereidende commissie's sneuvelden. In Virginia stemde de commissie zelfs unaniem tegen…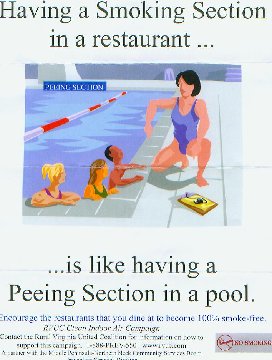 Het niveau van de anti-rokenlobby bereikte ook een historisch laag, gezien de posters die ze aan de politici uitdeelden (zie links).
In Virginia, a House of Delegates subcommittee unanimously rejected a bill that had won Senate approval despite the state's long-standing ties to the tobacco industry.
In Maryland, a House committee chaired by a Baltimore delegate whose downtown district is dotted with bars and taverns turned back a similar proposal by a narrow margin.
Health groups — including the American Cancer Society, the American Heart Association and the American Lung Association — lobbied extensively for the bans. Eleven other states have approved such prohibitions, as evidence mounted about the health risks of breathing secondhand smoke and more people stopped smoking.
Delegates in both states said that many business owners have prohibited smoking in response to customer demands but that those who wish to cater to smokers should be allowed to do so.
Washington Post (gratis registratie nodig)