Aantal rokers niet gedaald na rookverbod Ierland
Eén van de belangrijkste redenen om rookverboden in te stellen in de horeca is om roken te ontmoedigen. Door een soort Verelendung van de roker moet deze gedwongen worden zijn gewoonte af te zweren.
Maar werken rookverboden wel op die manier?
In Ierland blijkt uit de officiële statistieken daar niets van. Uit een overzicht dat wij ontdekten op de site van het Ierse Office of Tobacco Control blijkt dat de neergaande lijn in aantal rokers die er was vóór het rookverbod niet meer doorzette ná de invoering van het rookverbod. Vóór het rookverbod was het percentage rokers 22,1%. In september 2006, zo'n 2,5 jaar na de invoering, was dit alweer opgelopen naar 25,6%, een toename met 3,5%.
Ook typisch in die grafiek is een sterke daling gevolgd door een even zo grote stijging in mei 2006, 2 jaar na de invoering van het rookverbod. Naar de oorzaken van deze uitschieter kunnen we slechts gissen: had men op dat moment voor een rapportage of persverklaring misschien gunstige cijfers nodig?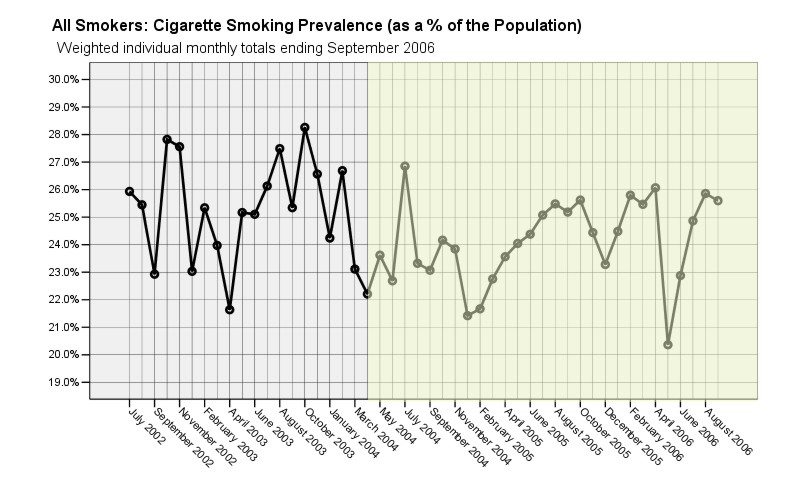 (In het gele deel was het rookverbod actief)