Vandaag gaat in Nederland de film "Thank You For Smoking" in première. Forces was uiteraard benieuwd of dit weer een zoveelste film was in de rij van films die de tabaksindustrie aan het kruis nagelt. Het blijkt echter een uiterst evenwichtige film te zijn, vaak erg grappig, waarin zowel pro- als anti-tabak (maar ook de alcohol- en wapenslobby) te kijk worden gezet.
De film gaat over de 'spin-cultuur': hoe kun je je in de media presenteren op een manier die de meeste steun onder het publiek oplevert. Een onderwerp dat nu, in de aanloop tot de verkiezingen, extra interessant is.
Een aanrader, zeker ook voor rokers. Onze Forces recensent rapporteert.
THANK YOU FOR SMOKING
De wereld leeft in spin.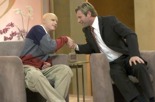 De satire Thank You For Smoking tackelt alle lobbyisten overal: of ze nu sigaretten, drank, geweren of volksgezondheid propageren. Nick Naylor (Aaron Eckhart) is een lobbyist voor de tabaksindustrie – en hij is erg goed in zijn vak. Wanneer volksgezondheidslobbyist Ron Goode (Todd Louiso) op televisie probeert nieuwe volksgezondheidsregels aan te prijzen met behulp van Robin Williger, een jongetje dat aan kanker lijdt, is Naylor de man die het publiek vertelt dat "The Ron Goodes of this world want the Robin Willigers to die so that their budgets will go up." Naylor heeft voor alles en iedereen een weerwoord. "That's the beauty of argument, if you argue correctly, you're never wrong." vertelt hij aan zijn zoon.
Maar in Naylor's leven is niet alles koek en ei: in zijn positie is hij zo bekend dat hij het als zijn baan ziet om de meest gehaatte man in Amerika te zijn, met alle ontvoeringen en exposés die daar aan te pas komen. Bovendien heeft hij problemen om zijn zoontje Joey (Cameron Bright) los te weken van zijn ex, die niet wil dat hij in hetzelfde wereldje belandt als zijn vader.
De film is een snoeiharde satire die aan alle kanten schoten lost op elk onderdeel van onze huidige 'spincultuur'. De 'heldhaftige' strijd die hier gevoerd wordt leeft niet op het niveau van een zucht naar waarheid, maar een zucht naar het goedkeuren van het publiek. Wanneer volksgezondheidsactivisten en tabakslobbyisten tegenover elkaar staan, is dit op gelijke voet. Elk is er slechts op uit om zijn gelijk te halen, onafhankelijk van enig bewijs.
Vrijwel elk argument voor en tegen roken passeert de revue, en altijd heeft Naylor zijn antwoord klaarliggen, meestal op de grappigste manier mogelijk. Regisseur en scriptschrijver Jason Reitman heeft de grootste lol met het materiaal dat hem door schrijver Christopher Buckley is aangereikt, waarbij hij het niet schroomt om politiek-correct links even hard neer te halen als de tabaksindustrie. Nadat Naylor door antitabaksterroristen is ontvoerd en volgeplakt met nicotinepleisters, vertelt zijn dokter hem, "No non-smoker could have ever withstood the amount of nicotine you had in your bloodstream. I hate to say it, but cigarettes saved your life."
In een wereld waarin iedereen probeert zijn gelijk te halen, heeft iedereen ook wel eens een keer ongelijk: Thank You For Smoking verheerlijkt noch tabak noch gezondheid en heeft zo alle ruimte om af te geven op ons bizarre, door spin bepaalde leefwereld.
Thank You For Smoking draait vanaf 9 november in de bioscoop.