Enquête rookverbod New York
Een overgrote meerderheid, tweederde van de New Yorkers vindt dat zowel de burgemeester van New York als de gouverneur van de staat New York te ver zijn gegaan met de algemene rookverboden. De meerderheid wil dan ook dat de wetten aangepast gaan worden. Slechts 28% vond dat de huidige wetten konden blijven zoals ze zijn.
The still-secret survey, a copy of which was obtained by The Post, shows that nearly 68 percent of all New York state voters – and 63 percent of city voters – say the controversial anti-smoking ban is too severe.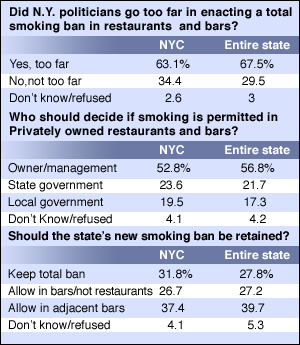 New Yorkers of all ethnicities agree that the ban went too far: blacks, 78 percent; Hispanics, 68.4 percent; and whites, 66.4 percent;

They also agree it went too far by sex: men, 70.7 percent, and women, 64.5 percent. They even agree it went too far by political orientation: Democrats, 63.8 percent; Republicans, 67.9 percent; independents, 75.3 percent.

And even nonsmokers agree it went too far.

A whopping 62 percent of nonsmokers said the law is too harsh.
The poll, conducted by the nationally renowned firm of McLaughlin & Associates, found two out of three voters say Pataki and state lawmakers should modify the law to permit – at the very least – some smoking in bars, nightclubs and lounges.

Just 28 percent said they wanted the current law left the way it is.

The poll – the first to become public since the smoking ban took effect – was commissioned by the state Conservative Party.